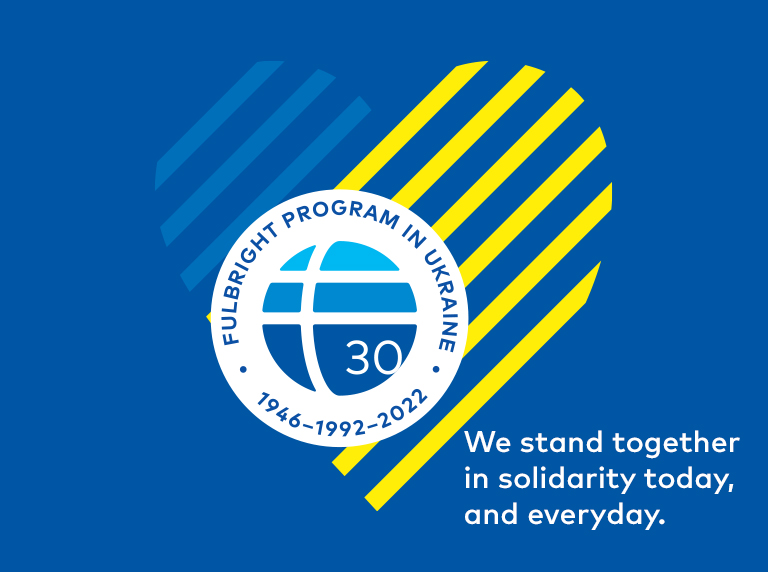 Today our global Fulbright community celebrates 31 Years of Ukraine's Independence! This year also marks 30 years of Fulbright in Ukraine. We stand united in our global Fulbright community in the defense of Ukraine's freedom. Over 20 Fulbright Commissions across Europe have also signed a Statement of Solidarity with Ukraine!
      Scholars, journalists, scientists, authors, artists working today represent, more than ever, the UN Declaration on Human Rights, which includes education as a fundamental human right. This is because the war takes place in information spheres as much as it unfolds on military battlegrounds. The global ramifications of disinformation were felt first as anti-democracy propaganda and attacks on freedom of the presses and freedom of speech during the Maidan Revolution of Dignity of 2013-2014. Those disinformation campaigns have continued to aim at weakening peaceful civic demonstrations and institutions. How the globe responds to the war in Ukraine will determine the future survival of democratic societies.
      We stand strong together.
      Knowledge and educators in every area of expertise have the power to break apart divisive narratives in historical revisionism globally. By protecting quality of knowledge, and exercising our freedom of thought, speech, and action, Fulbright scholars, students, researchers, and others daily make a difference. As cultural ambassadors, Fulbright Alumni and current Fulbrighters from Ukraine and U.S. increase awareness of our similarities and respect for our differences: introducing effective communication, critical thought, and diverse viewpoints. All contribute to our mutual democratic freedom—not only in through publications, speeches, lectures, but also in everyday words and actions. We educate and act against authoritarian past(s) so that they do not return to the democratic societies of the future. We must work together to build the future of ethical, responsible, and qualified leaders who defend human rights, and defend Ukrainian sovereignty.
      We stand together in solidarity today, and everyday. Слава Україні!  
Jessica Zychowicz,
Director of the Fulbright Program in Ukraine,
Institute of International Education Kyiv Office